Clarizen 產品異動訊息
Dear Clarizen Administrator,
We know that when everyone is engaged, progress is clear. Our goal is to ensure your entire organization is as engaged as possible in their work, so we are making changes to our User Types to provide every Clarizen user with the best access for maximizing business value.
What's changing:
Changes are being made to the Email and Social User Types.
1) The name of the Social User Type is being changed to Requestor to more accurately reflect how this license is being used. No functionality changes are being made to this license type at this time.
2) The Email User Type is a legacy option with limited functionality which has increased the complexity of user and license provisioning over time. Effective immediately, the Email User Type will be limited to existing assignments without the ability to add new Email Users. Be assured that existing email users will not experience any change in system behavior.
The "None" User Type will remain in place to support any users who need to receive notifications without logging into the system. In addition, the following User Type licenses are available for assignment to new users, with the main activities supported for each license type highlighted below.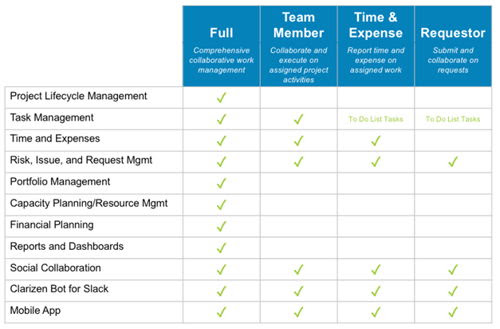 What actions need to be taken:
Effective immediately, please make sure to only assign new users to one of the User Types listed above. We suggest reviewing system setting 5.1 to verify your default setting for new users is not set to Email to minimize any potential disruption after the July 22nd product release. If you need assistance, more information about the User Management System Settings can be found on the Clarizen Success Site.
Please reach out to your account team or Email住址會使用灌水程式保護機制。你需要啟動Javascript才能觀看它 if you have any questions or need any assistance.
The Clarizen Team